Boeing Achieves Major Advance in Using Composites for Cryogenic Fuel Tanks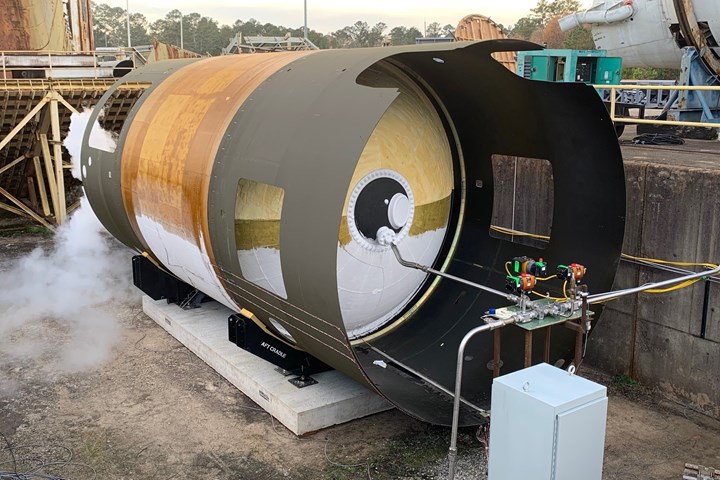 Boeing has announced a technology breakthrough for cryogenic fuel tanks. These tanks are essential components of liquid-fueled rockets because they hold the liquid hydrogen and the liquid oxygen that act as the fuel. They could also play a very important role in the development of long-haul, zero-emission flight, carrying liquid hydrogen as jet engine fuel.
With the assistance of NASA, Boeing has successfully tested and proven ready-for-use a cryogenic fuel tank. The large tank is made entirely from composites and requires no lining. The aerospace group designed and built the tank in-house, making use of the expertise, experience, and resources it has developed in working with aerospace composites for other projects and programs.
"Composites are the next major technological advancement for large aerospace cryogenic storage structures," pointed out Boeing Composite Cryotank Manufacturing lead Carlos Guzman. "And while they can be challenging to work with, they offer significant advantages over traditional metallic structures."
The test program was undertaken at NASA's Marshall Space Flight Center at the end of last year. The test program was jointly funded by Boeing and the US Defense Advanced Research Projects Agency. During the tests, Boeing and NASA engineers repeatedly filled the tank with cryogenic liquids and then pressurized it to operational levels and more. In the final test, the cryogenic liquid in the tank was pressurized to 3.75 times the design requirement; the tank did not experience any major structural failure.
"NASA's support through this testing has been invaluable," highlighted Boeing Test Program Manager Steve Wanthal. "We were able to use their technical expertise and investments made in the testing infrastructure at the Marshall Space Flight Center to continue to advance this technology, which will ultimately benefit the entire industry."
The composite tank used in the test program has a diameter of 4.3 m and is similar in size to the cryogenic tanks in the upper stage of NASA's latest and most powerful space rocket, the Space Launch System (SLS). The SLS is essential for NASA's new human space exploration program, Artemis, which will return humans to the Moon and take them into deeper space. If, Boeing pointed out, the new composite fuel tank technology was applied to future versions of the SLS, it would save such a significant amount of structural weight that it would increase the rocket's payload by up to 30%. 
Originally reported by Rebecca Campbell for engineeringnews.com. 
Share this post: