Blood Banks: Cryogenic Blast Freezing to -90°C in Minutes Increases Throughput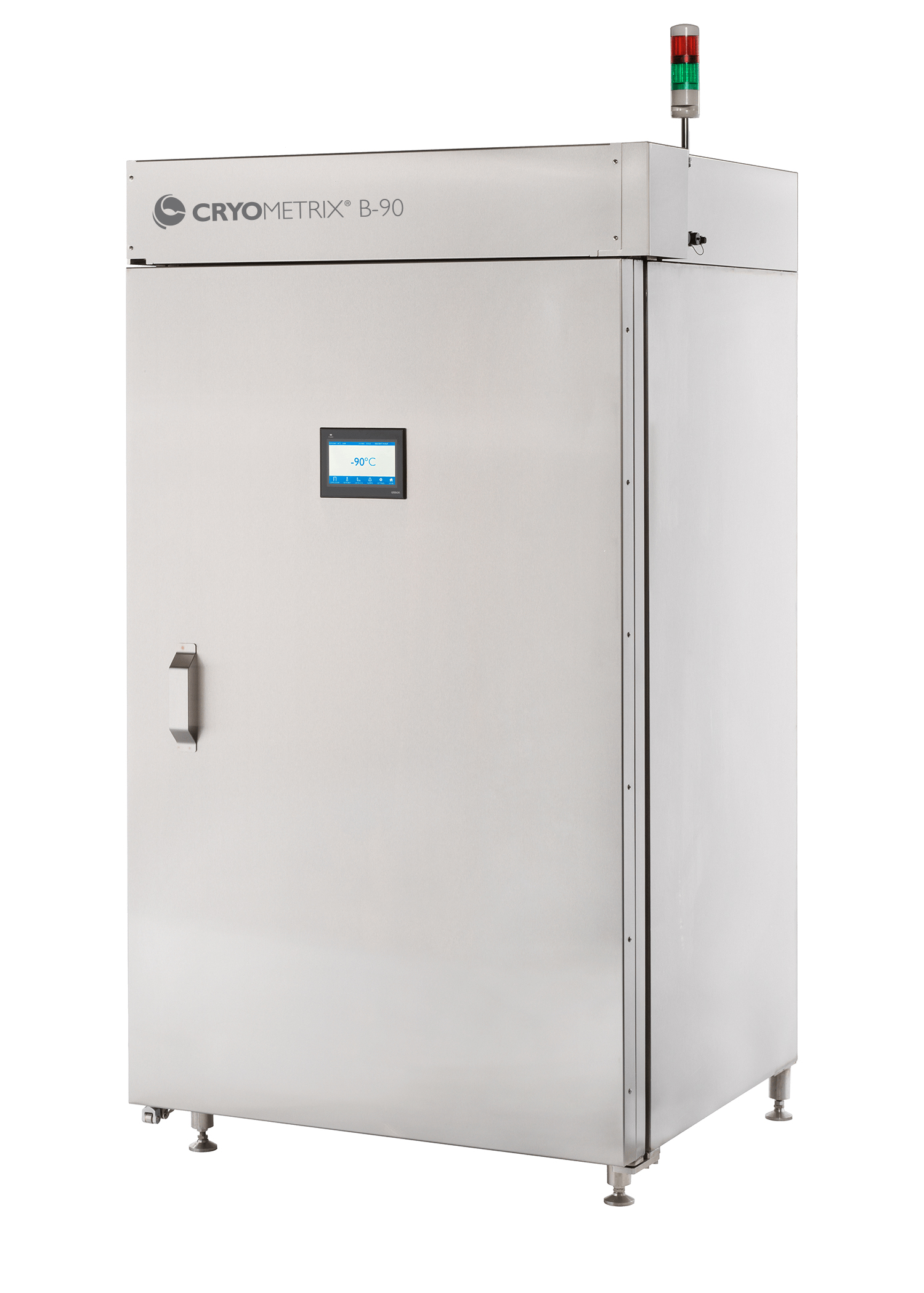 Blood banks utilize freezers to rapidly freeze and store a range of thermally sensitive products such as blood plasma and cryoprecipitate. However, conventional compressor-based freezers can take hours to reach the ultra-low target temperature, slowing processing to a level that may not be sufficient for many operations. The challenge is that mid- to large-volume blood banks may need to process and freeze from 500 to 2,000 units a day. This can create a "production bottleneck" when the donor blood is brought in at the end of the day. 
How quickly various blood plasma products are processed and frozen can also affect the value and type of product produced, and even its viability. Typically, fresh frozen plasma (FFP) has the greatest value but can be difficult to collect from donors in geographically dispersed areas. FFP can be prepared from either whole blood or apheresis collections and must be frozen at −18 ℃ within 8 hours of collection. This short time interval is critical for preserving the function of the more labile coagulation factors (Factor V, Factor VIII). Although plasma can be coded as 15-hour (PF15) and 24-hour (PF24), anything beyond that is usually turned over to plasma fractionators at a lesser value. 
In response to these considerations, the industry has developed upright, liquid nitrogen (LN2) blast freezers specifically designed to meet the plasma processing requirements of blood banks at higher volumes. The cryogenic, LN2 blast freezers reliably lower temperature to -90°C in minutes to significantly increase throughput. The approach eliminates the "production bottleneck" that occurs when large volumes of blood arrive at once at day's end. The faster freezing enhances the quality and even the value of blood plasma products. 
The LN2 blast freezers provide a viable alternative to compressor and refrigerant-based blast freezers, walk-in freezers, and the use of dry ice. Without the mechanical complexity of conventional systems, the LN2 blast freezers also significantly reduce costly maintenance and energy use, while eliminating the use of refrigerants. 
Blood Bank Challenges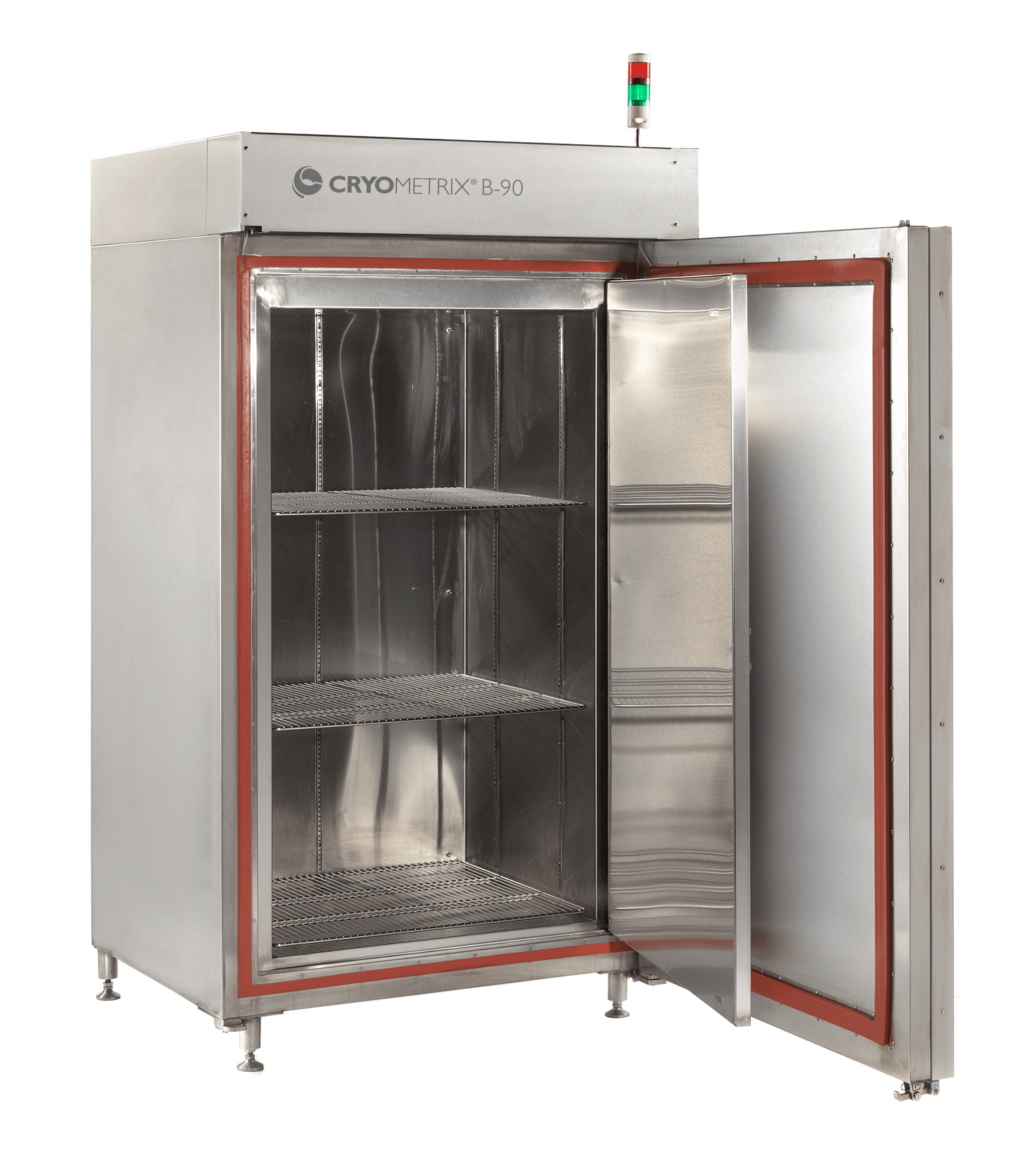 Like others in the industry, a mid-sized, regional blood bank sought a cost-effective solution to quickly and efficiently flash freeze their plasma products. The organization needed to find a suitable replacement for traditional compressor-driven freezers that were beginning to fail due to wear and tear over several years. The units utilized very large, dual-stage compressors similar to residential air conditioning systems, mounted outside the facility, to deliver the horsepower to freeze larger volumes of plasma. The large freezers also consumed copious amounts of electricity on an outdated 480-Volt circuit. 
The only immediate alternative on the market appeared to be a single-stage compressor capable of slowly processing just 36 units of plasma at a time. To meet the blood bank's throughput requirements would have required installing more than ten freezers. However, the blood bank had neither the space nor the electric power to pursue this alternative and did not wish to be subjected to the maintenance and breakdowns associated with compressor-based systems. 
Another challenge experienced by blood banks is that after several years of use, compressor-driven freezers can begin to have significant problems well beyond normal maintenance. Changing out failing fans and compressor motors is a major expense. When a compressor cannot be repaired onsite, the entire freezer may need to be shipped elsewhere for repair. The units can leak refrigerant, and finding the leaks is very expensive. When there is no access to repair a pinhole leak, the whole unit can become unrepairable. 
Optimizing Throughput
When the mid-sized regional blood center sought to improve its throughput and reduce its freeze times to improve quality, it selected upright LN2 cooled plasma flash freezers. The blood center turned to a Cryometrix B-90 blast freezer by Reflect Scientific, Inc. (symbol: RSCF), an Orem, Utah-based manufacturer that develops and markets innovative, proprietary cryogenic cooling technologies for the biotechnology, pharmaceutical, medical, and transportation markets. The company has more than 30 patents relating to the use of liquid nitrogen with low-temperature freezers, chillers, and refrigerated systems. 
The blast freezer utilizes safely contained liquid nitrogen at -196°C to freeze products with cooled air. The freezer is designed so there is no contact between the LN2 and the operator or product, which helps to ensure safety and product quality. Since the system is designed with eight fans adjacent to a heat exchanger, it can cool from 20°C to -90°C in less than 10 minutes. The temperature is adjustable from +40°C to -90°C, with temperature uniformity of ± 3°C throughout. 
The blood bank found that the blast freezer worked very well while meeting stringent FDA installation qualification (IQ), operation qualification (OQ), and performance qualification (PQ) validation requirements. As an alternative to the lower capacity, single-stage compressor that was limited to freezing 36 units every 90-120 minutes, the LN2 flash freezer can process a maximum load capacity of 200 units, with a 120-minute cycle time. Current "second generation" blast freezers from Reflect Scientific can process up to 400 units at a time. 
The LN2 freezer offers increased load capacity (456%) and throughput (317%) in freezer-to-freezer comparisons at maximum load and demonstrates a return on investment (ROI) of 28.5 months. The blood bank estimates it increased its throughput by about eight-fold. For greater throughput and efficiency, the organization could have replaced ten large mechanical blast freezers, along with the large roof-top compressor, with just two Cryometrix B-90 blast freezers. 
To ensure product quality, the B-90 provides state-of-the-art temperature and data logging, which can be easily accessed through a touch screen or downloaded to a computer. The latest software upgrade allows up to 250 users and 8 security levels. Managers can easily control who can open the freezer, change the setpoint, and adjust the setting. The blood bank also found significant maintenance advantages utilizing a Cryometrix LN2 cooled flash freezer. Because they are not compressor-based and eliminate the need for refrigerant, eco-friendly LN2 blast freezers perform with greater reliability and energy efficiency as well as reduced maintenance.
The Cryometrix units can be designed to "do double duty" by rapidly thawing product when required as well. As an option, the units can add a rapid thawing capability up to 40°C in the same machine, which can streamline throughput and make the most of constrained operating space. So, the user does not need two separate machines but can perform both rapid freezing and thawing procedures with one unit as required.
Blood banks have long been constrained by the freeze rate and capacity of traditional equipment. Fortunately, by utilizing advanced blast freezers, blood banks can increase their freezer load capacity and throughput, enhancing blood plasma product quality and value. In addition, using these blast freezers can substantially reduce blood banks' cost of operation, including maintenance, repair, and energy use, while enabling more environmentally friendly operation.
For more information: call 801-226-4100; email [email protected]; visit www.cryometrix.com; or write to the Cryometrix brand at Reflect Scientific, Inc., 1266 South 1380 West, Orem, Utah 84058.
Share this post: